Tags
Democracy Now!, KPFA, KPFA LSB, KPFA/Pacifica Radio internal conflict, KPFK, Pacifica Radio Network, Proud Boys, Revolutionary Communist Party (USA), Robert Bruce "Bob" Avakian (b. 1943), Sunsara Taylor, WBAI, WPFW
All of the Americans, who were shocked or surprised by Wednesday's actions by Trump loyalists in Washington D.C. and in other locations across the nation, ought to read Dr. Peter Dale Scott's deep history of the United States, particularly The Road to 9/11 and The American Deep State: Wall Street, Big Oil, and the Attack On American Democracy. It's important that Americans understand exactly who is in charge. For a powerful summary of Trump's presidency, cf. "American Mythology: The Presidency of Donald Trump", a seven-part podcast series by the Intercepted podcast, narrated by Jeremy Scahill.
Here's what free speech radio, as channeled by Pacifica Radio, are saying today, Thursday, 7 JAN 2021, in the aftermath of yesterday's protest actions, disturbances, rebellion, putsch, insurrection, or terrorist actions, depending on one's perspective. Download the Pacifica Radio app for easy access to free speech radio stations across the nation: KPFA (Berkeley, CA); WBAI (NYC); KPFK (L.A.); WPFW (D.C.); KPFT (Houston)
06:00 PST, KPFA > Democracy Now! [TW] Basically, what they said…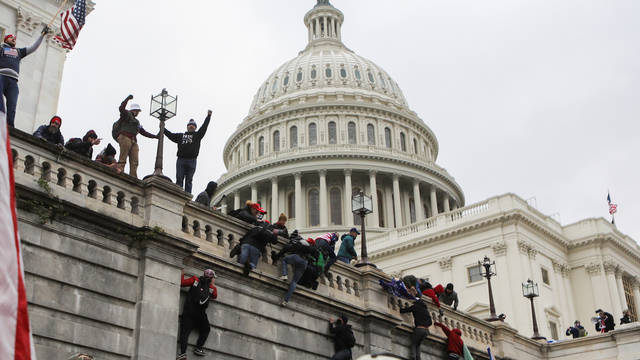 STORY
JAN 07, 2021
*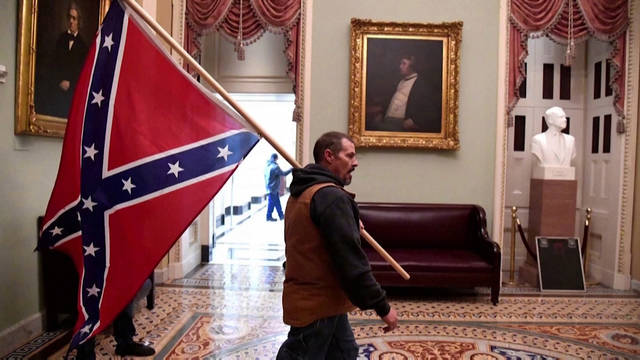 *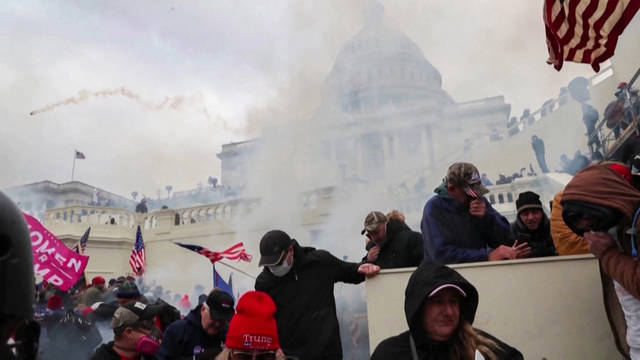 STORY
JAN 07, 2021
*
07:00 PST, KPFA > UpFront [TW] explored some interesting questions: "Violent white mob storms US Capitol, incited by Trump politics, social media, law enforcement; Plus: Crisis deepening at California's unemployment office, we answer listener questions with Daniela Urban with the Center for Workers' Rights."
2-hour UpFront broadcast summary:
0:08 – Trump incites violent white mob at the US Capitol, one day after Georgia Democratic victory tips Senate to Democrat majority
Steve Phillips (@StevePtweets) is the founder of Democracy in Color, he's host of the podcast "Democracy in Color with Steve Phillips," and author of the book Brown Is the New White.
0:34 – Unemployment call-in
Daniela Urban is Executive Director of the Center for Workers' Rights and special counsel to Legal Aid At Work (@LegalAidAtWork).
1:08 – Pro-Trump mob storms the Capitol – what were the signs?
Robert Evans (@IwriteOK) is an investigative journalist with the news website Bellingcat.
1:25 – Was the storming of the Capitol yesterday just a media stunt?
David Pierce (@pierce) is editor at large for the tech news site Protocol.
1:34 – COVID outbreak at Chowchilla prison hits 25% of population
Aminah Elster (@AminahElster) is campaign and policy coordinator with the California Coalition for Women Prisoners.
1:46 – Continuing our series hearing from the family members of people who are incarcerated inside Central California Women's Facility (CCWF). Our reporter Lucy Kang (@ThisIsLucyKang) spoke with a woman who only wanted to be identified as "Lisa" about her daughter who recently tested positive for COVID while incarcerated at CCWF. We're not naming "Lisa" or her daughter's identities to protect against potential retaliation.
The California Coalition for Women Prisoners is calling for better conditions inside CCWF, here's more information on the call to action.
1:52 – Federal prisons denying compassionate release, according to new reporting
Keri Blakinger (@keribla) is a reporter with the Marshall Project – Thousands of Sick Federal Prisoners Sought Compassionate Release. 98 Percent Were Denied, she reports.
07:00, KPFK > Sojourner Truth > sobering coverage of 6 JAN Trump Loyalist actions in DC and across the nation. News Headlines. Cops taking selfies with pro-Trump/anti-democracy protestors. Expert panelists discuss on Sojourner Truth.
07:00, WBAI & WPFW > common broadcast, speakers were describing details of a woman shot by Capitol Hill police and past history of their brutality. By contrast, yesterday, said one speaker, Capitol Hill police were holding doors open for the protestors, some of whom were flying Confederate flags. One woman earlier today (Thursday), perhaps a prof on DN, said not even during the Civil War, did the South manage to fly the Confederate flag in the White House. But yesterday they did.
FBI is sending out tweets, asking for help in identifying yesterday's protesters. One speaker questioned whether America can ever have a police force, which is not linked to white supremacist ideology. "There is no equal protection under the law."
07:15 PST, KPFA: One speaker reported that Capitol Hill police refused to hold a press conference to answer for enabling the disruption, disorder, and violence, as Trump loyalists marched into the Capitol building.
The KPFA guest was making interesting points. But UpFront host Brian Edwards-Tiekert changed the subject to the Georgia election. Oh, well. Georgia is an important topic, as the state has been flipped and has elected its first black senator. So, too, perhaps, is horse-race commentary about the rigged two-party system, or two-party dictatorship. But, somehow, the broader issue of American fascism seems more urgent. I dunno. That's just me.
07:22 PST, KPFK > Experts interviewed Maurice Cook(sp?) and Zahara Simmons(sp?) react to yesterday's actions in DC. Then, host also wants to get their take on the Georgia Senate election.
07:25, KPFK > on two-tiered justice system re: DC actions wedn. Pre-planning? Adelle Stan, et al yesterday commented that there's no way the Trump loyalists could have navigated their way through the underground labyrinth of hallways without assistance or having been enabled. KPFK guest also said she'd "been to the Capitol many times" and said "it's very hard to get into the Capitol." She noted that members of Congress were considering siding with Trump to stop the electoral vote count yesterday.
KPFK > Sojourner Truth > mobs of Trump loyalists, even kids, on the streets with pro-Trump paraphernalia. Personally, I saw the same thing, as I looked out my front window after dinner last night. The kids were riding by taunting and calling out pro-Trump slogans, as they rode down the middle of the street on their bicycles. That's definitely Brown Shirt behavior, as various observers noted yesterday.
Many experts agree there is a double standard…. So, now what? INTERPOL? International Court?
07:35 PST, WBAI & WPFW: An eye-witness recounted his experience observing the quasi-stand-down response by the Capitol Hill police. "I don't have no idea why they didn't stop it, with the only exception that they didn't care to stop it." On TV last night, I saw that the Trump loyalists did not "storm the Capitol", as many have narrated. The Trump loyalists were strolling in, sparse in number, in the halls of the Capitol building, as a single cop backed up some stairs, as the Trump loyalists advanced slowly, merrily. The looks on the faces of most Trump loyalists was glee because they knew they were being enabled. The video evidence basically shows the Capitol police led the Trump loyalists straight to the congressional floor.
07:40 PST, WBAI & WPFW, One speaker made salient points…
Protestors or terrorists? Yesterday, Sunsara Taylor or a colleague made an excellent argument that there's no moral equivalence between, say, the Proud Boys and the Black Panthers march on the Sacramento Capitol building.
0745, KPFK > 'Dr. Pinel Joseph, 'law enforcement is not the friend of black people.' Then, one man called in and said that the calls for a bipartisan solution to the problem of the Trump loyalists' antidemocratic attacks must involve concessions from the right, "not the left", as the Dems "have been kowtowing all along. The next man to call in said that America is "being set up for a race war." "You're being gaslighted", he urged.
Call congress switchboard…
08:00 PST, WBAI > Code Pink Radio: (1) [TW] On Congressional moves regarding the 2021 NDAA (2) Activist youth females speak… (3) [TW] On NDAA, guy from Code Pink, I think. He mentioned his Substack blog, Rethinking Security, maybe…
09:00 PST, WBAI > Gary Null [TW] > interesting COVID-19 information
One vaccine has "nanoparticles", Null discussed the details. Null also discussed a bill in NY, which could mandate covid vaccines, to the point of coming to your house or apartment. Also, the vaccines still require the vaccinated individuals to mask and social distance. Yet, many people think vaccines will free them from the masking and social distancing.
Null cited Catherine Austin Fitts about "the Great Reset". (Cf. Unpacking Mr. Global.) Small businesses will be decimated, smashed. Big business will further consolidate. Someone yesterday commented that many prisoners are being released, which is good for them and the families waiting at home. But it will also mean an even more depressed job market. Where's Dr. Kelton's, and MMT"s job guarantee programme when you need it, right?
10:15 PST, WBAI > Caller "Sanaan", a man, boldly raised the obvious historical parallel, which many of us are afraid to mention. The storming of the Reichstag in Germany and also the Proud Boys being reminiscent of the Brown Shirts. Gary Null minced no words earlier during his broadcast. But, of course, Pacifica, et al have "banned" him.
10:00 PST, KPFA > Letters and Politics > Sasha Abramsky [TW]
KPFA > Letters and Politics [TW]
11:00 PST, KPFA > The Talkies [TW]. Kristina Aanestad spoke with s doctor about the science of the new covid variant and the realities our medical system and society can expect in the near future, and what to do about it.
11:35 PST, WBAI > Gary Null > interesting health and science info, building the immune system, a very relevant topic in a time of covid.
11:40 PST, WPFW [TW]
12:00 PST, [TW] KPFA News Headlines. Then, Behind the News with Doug Henwood. Viju Krishnan on farmer's strikes. 2. Unionizing Google
12:10 PST, KPFK is playing interesting music, a bit new agey-sounding. This is typical of KPFK and the stressed out nature of life in SoCal or something. That's the impression I get.
12:19 WPFW (DC): sultry jazz music; they must be really stressed out over there, too
12:20 PST, WBAI, [TW] Resistance Radio: relevant analysis on Trump loyalists… John Mouse(sp?) and Ariel Pink joined Trump loyalists. "It was an alliance…"
13:00 PST, Meanwhile, KPFA was broadcasting their usual sleepy edition of Cover to Cover with Richard Wolinsky. Well, I can't lie some episodes of CTC do hook me in. Today's topic seems to be about Italian films, John Houseman's play of Native Son. And they did mention the CIA and film noir. So, that's cool.
13:00 PST, WBAI > DN! News Headlines > 13:18 PST, up next > Sunsara Taylor, "Insurrection Response Special", 'a fascism mob broke through and raided […] and it was spearheaded by the man in the White House. There's no way around it.'
Antisemitism was also represented among the Trump loyalists, as some were wearing shirts with 6MNE or something, which is a slogan saying the 'six million Jews killed by Nazis was not enough'. Also, one elected rep in the U.S. House of Representatives joined the Trump loyalists, got on mic, and quoted Hitler. The congresswoman said Hitler was right about one thing: If you get the youth, you can be victorious.
13:25 PST, meanwhile WPFW must be super-stressed out over here. They playin' a whack ass soft jazzy version of The Delfonics' classic, "La La Means I Love You". I dunno. I can't lie. They played some good jazz after that. But WBAI has their finger on the pulse. Let's go back to Sunsara Taylor.
13:27 PST, WBAI > Sunsara Taylor takes live call ins [TW]
13:55 PST, WBAI > News Headlines: only about a dozen arrests. [Sunsara Taylor, et al reported earlier on Pacifica Radio that, by contrast, about 14,000 anti-Trump, pro-BLM protestors in the summer of 2020.]
14:00 PST/17:00 EST, Driving Forces, relevant analysis
14:00 PST, WPFW > relevant analysis (health care)
14:00, KPFA > Caroline Casey(?), coyote lady(?) > environmental focus, testimony from Native Americans on destruction of arctic by oil profiteers
c. 14:20 PST, interesting interview with Casey Layman, author of How To Slowly Kill Yourself and Others in America
14:27, KPFA > Caroline Casey(?), coyote lady(?) > environmental focus, testimony from Native Americans on destruction of arctic by oil profiteers
1427,WBAI, covid, vaccines, and prison populations
15:00 PST, WBAI > News Headlines [TW] Rep. Lindsey Graham, "Yesterday, they could have killed us all." But no mention of police opening doors and 'standing down'.
15:00 PST, Rising Up
16:00 PST, KPFA > Hard Knock Radio > on Georgia (USA) politics
16:30 PST, WBAI > The Jimmy Dore Show > [TW] relevant analysis, cites Greenwald. Dore said, a more competent dictator will lead the fascist mob next time'.
16:40 PST, WPFW [DC] > jazz music, straight ahead jazz
16:45 PST, KPFA [Berkeley, CA] > Hard Knock Radio > [TW] a chilling audio collage of news footage clips, corporate news reporting, and violent mayhem in the streets. Chilling chanting, "USA!! USA!! USA!!", nationalism, white nationalism, and white supremacist vibes. 16:48 PST, "This Is America" by Childish Gambino, very apros po.
KPFA > Hard Knock Radio > upon closer listen, maybe it was an updated remix version of "This Is America". 16:52 PST, from death row, a communique from political prisoner Mumia Abu Jamal addressed the plight of prisoners, such as "Maroon", who are at risk of "death by incarceration." Mumia's call was recorded by Noelle Hanrahan for Prison Radio. 16:56 PST, another very apros po musical selection, "My Petition" by Jill Scott.
17:00 PST, WPFW [DC] > more jazz music, slow tempo (sax, vihes, horns, upright bass, drums, piano)
17:00 PST, KPFA > [TW] Flashpoints > audio of Trump speech, "My only goal was to defend the integrity of the vote." Sorry, but that's bullshit because the entire electoral vote recount was baseless, and should never have even taken place, as many expert observers commented yesterday. Trump closed with, 'Our journey is only beginning.'
17:05 PST, Flashpoints > Host, Dennis Bernstein spoke with Prof. Francis Boyle (Univ. of Chicago Law), a noted human rights lawyer. "We have a seditious conspiracy going on here. […] And, so, we have to take this very seriously." Boyle said, 'Congress should have been in emergency session all day. Instead, they went on recess until January 20th.' Wow.
Prof. Boyle: 'We have a prima facia case for sedition by Trump, et al,, coordinated by Holly and Cruz, et al. But we need more investigation on that to confirm the co-conspirators. But there was no security at all. It was like a 9/11 stand-down scenario. Democrats are just as feckless as the liberal Germans after the burning of the Reichstag.'
Next Flashpoints guest addressed the ongoing prison hunger strikes in America. He also described various abuses and inhumane conditions in Alabama prisons, citing a letter of plea from a prisoner published on the SF Bayview Newspaper recently. "We have historical dialectical materialism. There is no rule of law." 'The evidence on the ground,' he said,'is telling us we're in trouble.'
17:50 PST, KPFK > [TW] Background Briefing. At the end, Ian Masters reported an upcoming LSB meeting. Pacifica Radio bosses, said Masters, have been running roughshod over KPFK and are trying to ouster or "fire" Sonali Kolhatkar (Rising Up) and him.
18:00 PST, KPFA Evening News [TW]
18:15 PST, WBAI > music, theater, and the arts in a time of covid, white supremacy, and fascism.
18:19 PST, WPFW [DC] > more jazz; no breaking special programming on fascism in DC
18:25 PST, KPFA Evening News [TW], BET clip on Trump loyalists, "Bellingcat" (cf. Grayzone coverage of Bellingcat)
19:00 PST, KPFA > Apex Express > on "the racist internment policy" against the Japanese in the USA during WWII.
19:00 PST, KPFK [L.A.] > retrospective focusing on indigenous activist Carey Dan, Mary Dan, et al., Western Shoshone Project, nuclear waste on Yucca Mountain.
19:00 PST, WBAI [NYC] > on the tradition of folk music and Joan Baez
***

COLUMNJAN 07, 2021
By Amy Goodman & Denis Moynihan
Throughout his life, Trump has fanned the flames of white supremacy. He owes his one-term presidency in large part to his cynical exploitation of racism and fear.
Learn more at DEMOCRACY NOW!
***
[Raw notes will be expanded as time constraints allow. Please consider alternative sources of media, and monitor right-wing media…]
***
[7 JAN 2021]
[Last modified on 6 MAR 2023 at 18:39 PST]